Want to sell your courses online? Want to know how quickly you can get to create your own educational website? Want to showcase your skills or knowledge at the global level?  
Online education makes it easy to learn from anywhere and at any time. No matter where your students are, you can quickly reach out to them and offer live-training without requiring to use of many resources. Just an internet connection, your system, and the most important is your skill! 
And here, in this blog, we'll discuss which type of educational website should you prefer, how to quickly create an online education website without any coding, and how to promote it well to reach out to your target students.
Let's roll on!
What Kind of Educational Website You Can Create?
Think of yourself! Who are your target students? What's their major concern? Which type of e-learning website can help you best solve your purpose? The answer to these questions can help you understand the structure of your dream website.
Here, we're categorizing educational websites into 3 categories-
School or College Website–

The main purpose of creating such websites is to provide useful information about the school, students, teachers, and the courses offered.

Online Education Portal– Online education portals are meant for offering online study materials (i.e. online photography courses), live-classes, video-tutorials and certificates to students.
Membership Website for Education–

The instructors and learners join as a member in these websites. Instructors get all the features that help them create and manage their courses, and monitor their students' progress. On the other hand, students are able to get enrolled for the desired courses.
How To Create E-learning Website On WordPress
Let's go through with these 6 simple steps that help you get started with your e-learning website. 
Step 1: Get Domain & WordPress Hosting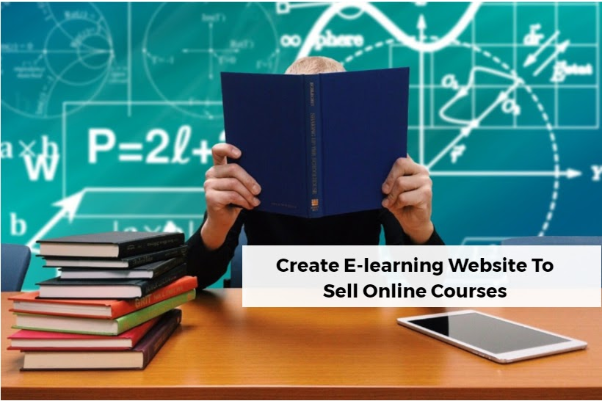 A domain name will be the foundation of your e-learning platform. It is the website's address, for example, wbcomdesigns.com that your learners will use to visit your website. Therefore, an ideal domain name should not be too much complicated to pronounce or remember. Rather, it must be short, unique, and easy to pronounce.
Besides the Domain name, you'll require a web hosting plan where you store all your website files. You can take into account GoDaddy, HostGator, BlueHost, CloudWays, and others to buy a WordPress Hosting that suits your budget and requirements. Make sure you've compared all these plans carefully before making a final purchase decision.
Step 2: WordPress Installation & Setup
After you get your Domain and web hosting, your next step will be to setup and install WordPress. WordPress is open-source software that requires minimum effort to create and manage a website. It is known for its accessibility, flexibility, performance, security, and ease of use.
It comes with various tools for publishing content, user management, media management, built-in comments, plugin & theme system, application framework, custom content types, and more.
Step 3: Install and setup LearnDash
Next, in order to integrate e-learning functionality on your WordPress website, you'll require a WordPress LMS plugin. There are some WordPress LMS plugin in the market to choose and I would recommend choosing LearnDash and pair the best LearnDash theme to create a professional online course selling website.
This will allow you to create and sell courses online.
LearnDash is the best Learning Management System plugin that offers solution for online course management, lesson plans, assignments, quizzes, and course progression. The powerful features of LearnDash LMS include focus mode, course builder, drip-feed content, flexible prerequisites, grade book, course points, certificates and badges, course monetization, administration, and many more.
Step 4: Get LearnDash Addons
In order to make the process of creating, managing, and selling your courses a bit easier and to add more functionality to your website, it is wiser to use checkout these LearnDash Addons. There are many addons available for LearnDash LMS in the market that you can use such as LearnDash Dashboard, LearnDash Notes, LearnDash wpForo, and many more. You can integrate them as per your customization requirements.
Step 5: Install & Setup LearnMate WordPress Theme For LearnDash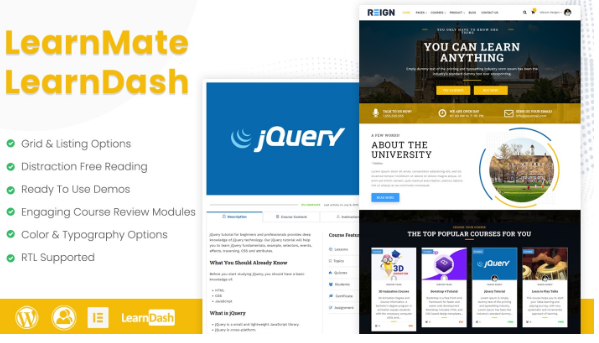 After you've installed and configured LearnDash LMS and required addons, you'll require a WordPress LMS theme compatible with your LearnDash LMS and make your e-learning website look beautiful and engaging.
LearnMate for LearnDash theme is fully crafted keeping in mind all the aspects that help you making your website more eye-catchy and interactive for your learners. It is a fully responsive, lightweight, flexible, RTL supported, and fast SEO-optimized theme. LearnMate has in-built support for BuddyPress that helps you convert your site into a powerful social learning community.  
Some top-notch features of this theme include:
Grid and listing options 

Distraction-free reading

Inbuilt Course Reviews

Ready To Use Demos

Color & Typography Options

Multiple Header Variations

Optimized Mobile Menu Panel
The theme offers support for major WordPress plugins like BuddyPress, WooCommerce, Elementor, Paid Membership Pro, wpForo, Easy Digital Downloads, and more.
Step 6: Promoting your online course
Now, that your course selling website is ready. It's time to promote your online courses and help your prospects to find your e-learning solution. Let's take a look at few ways on how to promote your online course and make it successful.
Optimize your site well on-site and off-site. It'll help you a lot to rank your site for your target keywords at the time when your students are searching for a business like yours.

This guide offered by Moz

is a brilliant source that will help you understand about SEO.

You need to regularly collect the required data and monitor your website performance. You can tale the help of some tracking or analytics plugin that offers useful insights about your website and will help you develop a strong and effective marketing strategy.

Start an email newsletter to collect email addresses and reach out to those users who visited your site and bring them back to your website.
Ready To Sell Your Online Course?
Now, creating websites is not difficult more just because of WordPress. Using it, you can create whatever website you would like to create. And, here, I'm summing up this blog. We hope you got the point on how to create an e-learning website using Learndash. Follow the above-mentioned steps properly and your site will get ready to sell courses to your students.
Stay tuned to learn more!